Paddleboarding in Dana Point
Stand-up paddleboarding, sometimes called SUP or simply paddleboarding, combines the art of balance with the sheer bliss of gliding atop the water. Standing on top of what is essentially a large surfboard, paddleboarders use a long paddle to propel themselves through the water. In Dana Point, paddleboarding gives you a chance to get a work out on vacation while exploring the breathtaking beauty of the Southern California coastline.
Dana Point Harbor is a great hub for paddleboarding. For those new to the sport, launching at Baby Beach is a good idea. Get your sea legs on the calm waters before heading out into the Pacific Ocean to get a new view of the harbor and beaches.
If you're looking for a truly unique paddleboard experience in Dana Point, iHeartYoga hosts SUP yoga classes out on the water—no paddleboard or yoga experience required. The unique 90-minute paddle and yoga workshop, offered in partnership with Westwind Sailing, combines thirty minutes of paddling with an hour of yoga practice on the paddleboard. You'll engage new muscles, make new friends and if you fall, no worries! The water is refreshing.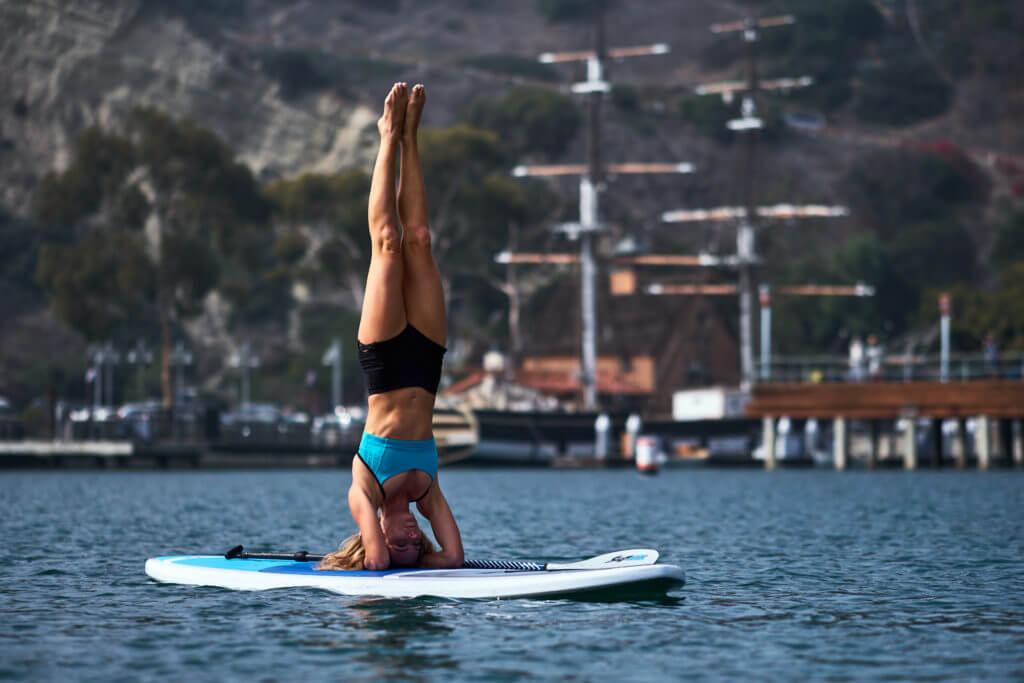 Dana Point Kayak Rentals and Paddleboard Rentals
If you're from out of town, chances are that you're not lugging your paddleboard or kayak to Dana Point. And there's no need to. Local shops offer rentals at reasonable prices, so anyone can take a spin.
Capo Beach Watercraft Rentals
Capo Beach Watercraft Rentals offers impeccable services for Dana Point kayak rentals. Open year-round, seven days a week, this family-owned business was the original jet ski rental location back in 1985. They offer single, double and triple perception kayaks, but if you're looking for something a little more adrenaline-inducing you can hop on a jet ski that goes up to 60 mph.
Pure Watersports
Pure Watersports' Dana Point location offers Hobie stand-up paddleboards and INT surfboards for hourly or daily rental. That means that you can just show up and talk to the people at the front desk to get a paddleboard–or make a reservation in advance. For $5, they will deliver the equipment to Doheny State Beach or you can take the board to your favorite beach and launch from there. Whatever floats your boat (or should we say board).
Pure Watersports also offers a variety of premium kayak rental options including single, double and fishing kayaks. As a one-stop shop for many watersports in Dana Point, you can also rent jet skis and purchase spearfishing equipment.
Westwind Sailing
Located on the docks at the OC Sailing & Events Center, Westwind Sailing's paddleboarding and kayaking rentals are right on the water. Just take advantage of the free parking and walk in to rent your equipment. No reservation required. Everyone can paddleboard or kayak even if you've never done if before. Westwind Sailing offers dockside instruction, paddleboard or kayak use and life jackets within the cost of a rental.
SUP to You
Based in Laguna Beach, SUP to You makes paddleboarding easy by delivering the equipment anywhere you'd like–as long as you make the reservation at least a day in advance. Delivery is free with your rental. Pick your Dana Point beach and SUP to You will meet you there. Oh, and they'll pick it up, too. Pretty sweet, bro.
Many Dana Point resorts like The Ritz-Carlton, Laguna Niguel and Monarch Beach Resort also offer paddleboard and kayak rentals for guests. Be sure to inquire with the front desk of your hotel in Dana Point to find out what you have access to right on the resort grounds.